Fall Creek Suttlery
|

P.O. Box 92 Whitestown, Indiana 46075
(765) 482-1861 (765) 482-1848 fax
Our Mailing Address, not the sutler tent.
Our Retail Store is at....
917 E Walnut St, Lebanon, Indiana 46052
For Information about our - Click Here

We have been in the Sutler business for Thirty Seven Years supplying Civil War Reenactors, Living Historians, Museums, Movie productions and Victorian Era Buffs with high quality reproduction goods to make their impressions complete. We manufacture a large percentage of the goods we sell right here in Indiana, therefore the quality is kept to the highest standards.
All of our merchandise is guaranteed for your satisfaction, or we will refund the purchase price- Click Here.

Our phone lines are always available, please give us a call-
(765) 482-1861 (765) 482-1848 fax
9:00-4:00 Monday - Friday (except holidays)........................ Saturday and after hours by appointment
Thanks for your support.......We Appreciate Your Business!!
This Page was last updated on July 23, 2015




Secure Online Shopping Cart System!!!

Check out our Damascus Knives
Fall Creek has the Best Civil War Tents on the market today!
Check out our selection!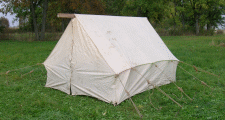 To Go Directly to our Tents Page-
Click Here


---
---
Back by Popular Demand!!!

Be The First On Your Block...
....To own the Genuine
Robert E Lee (1807-1870) Commemorative Rifle Sword
. 41 1/4" Overall. Features a real wood stock. Metal barrel, sling swivels and hardware with a working lock that snaps the hammer when the trigger is pulled.
Go into battle and instead of reloading, Snap the hidden safety catch, pull off the front of the musket and Voilla!... a 27" steel sword blade is revealed.
Complimented by a CSA metal side plate, and simulated ivory plaques on the stock bearing General Lee's visage. Sling is included. This is a fairly high quality novelty item, and not really a toy, but it is a great display piece for any youngsters collection. Packaged in an attractive display box....................................
Back in Stock! $54.95
---

We Have Flags
.............Click Here ...........

To visit our Flag page including
period American and Confederate Flags for reenactments

---
---

.Now presenting.....
...........................The Merchandise
To search our site for that particular item, Please use the box below.
........ ......... .......


Civil War Military Leather Goods

....................

.

Civil War Tents

Armi Sport Muskets! Civil War Muskets & Rifles

....... .........................


Civil War Shoes and Boots

............

................


Knapsacks, Haversacks & Blankets

.......

Civil War Uniforms

......

Confederate States Uniforms- Click Here United States Uniforms- Click Here

.....................................


Civil War Tinware & Canteens

Civil War & Cowboy Cartridge Rifles
Spencer Carbines in .45lc are now available!

......................................................................


Economy Uniforms- Click Here

.........................................


Civil War Buttons

................................................


Uniforms for Kids

......................................

..

..

Civil War Embroidered Insignia

...

.................


Civil War Revolvers & Pistols

.........................

Civil War Shirts & Clothing Accessories Including Chevrons

...............................


Civil War Brass Insignia

...

..........




Civil War Non Firing Revolvers

................................................



Civil War Headwear

..........

...................................

Civil War Buckles and Plates

.................



Civil War Era Kit Guns

...................................

Civil War Lady's Items and Books

..........................................

.........................................
...........Civil War Haversack Stuffers
Includes Tobacco, Playing Cards, Spectacles, etc

.......................................
Firearms Accessories
&
Cleaning Supplies

..................................


Civil War Books-

General Reference

.........................................................

Civil War Clothing Patterns

...............................................
Civil War Books-

Manuals & Reprints


Gift Certificates
Now Available!

........................................



Civil War Music & Video Tapes & CD's Check Out Our Reenactment Videos!!

................................



Musical Instruments and Books

......................................

.. ..Civil War Souvenirs and Collectibles ..

........

...........



Wanted By Us
We'll Pay Cash!

..........


CW Era Flags

Please enjoy your reading and come back often to see the changes.
Fall Creek Suttlery is proud to be one of the largest Civil War Reenacting Suppliers in the Country, heck the World! We didn't get there without YOU!
We strive to give high quality and top notch service. If you fail to get either of these attributes at any time, please let me know immediately. Thank you for your support.
Andy Fulks- FC Sutler @aol.com

Our Current Flyer!!
Have you received our 2015 Sutler Flyer ?? If you haven't gotten yours yet, Give us a call and make sure that you are on our mailing list,
OR
Just e-mail your name and address and we'll make sure that you get one- Click here

You are Visitor Number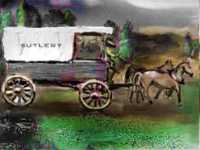 PO Box 92, Whitestown, Indiana 46075

Store Address-
917 E Walnut Street, Lebanon, Indiana 46052
Indianapolis Indiana Lebanon Indiana WParticipation and Use of the Fall Creek Suttlery Website is subject to our Terms of Usehitestown Indiana Indianapolis Indiana