Civil War Springfield and Enfield Muskets
Fall Creek Suttlery
P.O. Box 92
Whitestown, Indiana 46075
(765) 482-1861
(765) 482-1848 fax

Civil War Muskets
Muzzle Loading Musket, Rifle, and Carbine Selections

Prices are volatile sometimes. Please call for current prices


The Musket supply from Italy is very Strange.
Please Contact us regarding the availability of all muskets.
Prices on this page should be accurate, but subject to change at any time



---

To Check Out our Civil War and Cowboy Cartridge Rifles
Click Here

For Civil War Sharps Carbines or Rifles and Smith Carbine
Click Here
---
for Bayonets for Springfield and Enfield muskets Click Here
---
For notes on ramrod useage and replacement ramrods- Click Here
Muskets & Rifles
US Springfield 1855 Rifle Musket, Armi Sport Type II. By Armi Sport. Similar model to above 1855, only with the patch box in the buttstock as shown. Also includes the leaf sight as seen on Richmonds and 1861 models in place of the black ladder sight..
.58 cal, three bands. Lock and barrel marked 1859 (VP and eagle as well). Non functioning tape primer, but the lock plate door does open. Iron buttplate and brass nosecap. Oiled walnut stock. Armi Sport Springfields feature a one piece forged barrel with a Tang screw plug, exactly like the originals. 1-66" rifling.Weight 9.75 Lbs.
Barrel length 40", 56" overall....... POR


Protect your investment with one of our FLEECE LINED CANVAS GUN SACKS - Click Here
---



1853 Enfield Rifle, Armi Sport. This is our best seller. The 1853 3-Band Enfield Musket saw service by both the Northern and Southern troops during the Civil War. This replica has all the features of the original including the one piece, oil finished American walnut stock (as shown); original styled barrel bands; and blued barrel. The Enfield is accented with brass butt plate, triggerguard and nose cap as per the original. The 'V' style mainspring in the percussion lock and military style sights compliment this fine musket. 3-bands, .577 cal. Italian made. Oiled (American walnut) stock, Correct style barrel bands. 1-48" twist rifling. 3 Grooves. Overall length 55". Somewhat lighter than the Euroarms. Lock marked 1853 Enfield. Weight 10.5 Lbs. Barrel length 39", 55" overall.
N-SSA Approved $940.00

Protect your investment with one of our FLEECE LINED CANVAS GUN SACKS - Click Here
---



1858 Enfield 2-Band Rifle, Armi Sport. The British Enfield musket saw extensive service during the Civil War. This version is a well balanced piece with an oil finished stock of American walnut as per the original. This musket features a case colored percussion lock, blued barrel bands and the correct style screws. The triggerguard, buttplate and nosecap are finished in brightly polished brass. Cal. .58, Length of BBL 33", 3 Grooves, Twist Right. 1 in 48" twist. Weight 9.5 Lbs.
Overall Length 49"....................................$926.25

Uses a Sword type bayonet with Gutta Percha grips-available on our Bayonets Page
Protect your investment with one of our FLEECE LINED CANVAS GUN SACKS - Click Here
---



1861 Springfield Rifle, Armi Sport .58 cal, The model 1861 Springfield rifled musket was the principle firearm of the Civil War.
By the end of 1863 most Federal infantrymen were armed with either this musket or the Enfield. This piece features a one-piece forged barrel; military style sights; steel buttplate, triggerguard and barrel bands; and a swelled ramrod like the original muskets. Armi Sport Springfields feature a one piece forged barrel with a Tang screw plug, exactly like the originals. The lock is marked "1861 Springfield" with an eagle. One piece American walnut oil finished stock. 1-66" twist. 56" Overall length.Weight 9 Lbs. Barrel length 40", 56" overall.
N-SSA Approved .................................$940.00
Protect your investment with one of our FLEECE LINED CANVAS GUN SACKS - Click Here
---



CS Richmond Musket 1862. Armi Sport The C.S. Richmond Musket was manufactured from 1861 to 1865 by The Richmond Armory in Richmond, Virginia. This musket was produced in larger numbers than all other Confederate longarms manufactured during the Civil War. The Richmond features a one-piece forged barrel; military style sights; steel triggerguard, barrel bands; and brass butt plate and nose cap. The lock is marked 1862 to the left of the hammer and C.S. RICHMOND, VA. to the right of the hammer. The barrel has the VP and the eagle head stamping to the left of the breech. The Richmond also features a one piece American walnut oil finished stock. Please note that this C.S. Richmond is noted for its accuracy. Armi Sport Richmonds feature a one piece forged barrel with a Tang screw plug, exactly like the originals. 1-66" twist. .58 cal. Weight 9 Lbs. Barrel length 40", 56" overall.
N-SSA Approved ...............................................................$972.50 - Call
Protect your investment with one of our FLEECE LINED CANVAS GUN SACKS - Click Here
---


CS Richmond Carbine 1862. Faithful copy of the original rare CS Richmond carbine. Made by Armisport. Overall Length: 41 inches, .58 cal, Barrel length 25 inches, Sights are 2 leaf military style, Walnut Stock, White Satin finish with Brass Butt Plate and Brass Nose Cap......$902.00- Call
Protect your investment with one of our FLEECE LINED CANVAS GUN SACKS - Click Here
---



1842 Springfield Musket, Smoothbore, Armi Sport. The model 1842 U.S. Percussion Musket was produced in great numbers by both the Harpers Ferry and Springfield Armories from 1844 to 1855. This reproduction is true to the original measurements, with a 42" barrel and a total length of 58 inches. The Model 1842 was notable in several respects, chiefly that is was the last .69 caliber musket. Additionally, it was the first weapon made at both the Harpers Ferry and Springfield Armory with completely interchangeable parts. Harpers Ferry produced 103,000 while Springfield produced 172,000 for a total production surpassing a quarter of a million arms. Many of these arms had been delivered to militias in the late 1850s and saw service in the early years of the Great Conflict. This reproduction is nicely marked. The lockplate is stamped with Federal eagle in front of the hammer and vertically marked "Spring-field" in two lines behind the hammer. The lock and tang are dated 1847. The barrel is stamped with the correct style V.P. and eagle head proof marks are on the breech. The buttplate is marked U.S. The sling swivels are riveted as per the original. One piece American walnut oil finished stock. Weight 9.75 Lbs .Barrel length 42", 57 3/4" overall.
Smoothbore.........$982.50 - Call
Protect your investment with one of our FLEECE LINED CANVAS GUN SACKS - Click Here
---

1842 Springfield Musket, Rifled, Armi Sport. .69 cal rifled bore. This is the coolest reproduction musket made. Prior to 1855, the army experimented with a rifled version of their long arms. There were 15,000 Springfields made with rifling, and of those, the Ladder style long range sight was placed on 10,000. When the conflict struck, many 1842 and 1816 muskets were rifled in the armories to accept a .69 minne ball. Oiled American walnut stock. Lock and barrel dated 1847. This is a very nice weapon for accuracy in a large caliber. Rifling has a 1-72" twist. Length of BBL 42" Overall Length 57 3/4". Weight 9.75 Lbs.
N-SSA Approved...... $1026.25 - Call
Protect your investment with one of our FLEECE LINED CANVAS GUN SACKS - Click Here

---


1816 Springfield Musket, Pedersoli.
The U.S. Model 1816 Flintlock Musket was made by Harpers Ferry and Springfield arsenals from 1816 until 1844 and by various other contractors during those years. The musket had the highest product of any U.S. Flintlock musket and, converted to percussion, saw service in the Civil War. N/SSA approved. One piece full stock of European walnut is satin oil finished. The furniture is left in the white as the originals were. The barrel is 42" long and is .69 caliber smoothbore. Lock plate is marked as the originals with an eagle over "U.S." and dated 1816 on the tail with "Harpers Ferry". Correct inspectors mark stamped on the stock. Lock is an exact reproduction with hardened frizzen that sparks nicely. Requires musket flint (Not included). Made by Pedersoli in Italy.
............................................................................ ................................................................ $1510.00 Call
Please inquire about bayonets for the 1816. These are available from time to time.

Protect your investment with one of our FLEECE LINED CANVAS GUN SACKS- Click Here

*****************************************************************************************************************************************



1816 Springfield Musket, Percussion Conversion.
Same Pedersoli musket as above, only converted to percussion. This is a Colt style conversion. In place of the vent hole a drum and nipple (5/16x24) has been added. The flintlock hammer, frizzen and frizzen spring are removed and original screw holes plugged, but still visible. The pan is ground down with only a small portion remaining to support the drum. The percussion hammer is the round faced style typical of the Colt conversion.
.69 Caliber smoothbore. These were not available for quite a while, but are now being made again.
Conversion is done at the Pedersoli factory in Italy....................................................$1510.00 Call

Protect your investment with one of our FLEECE LINED CANVAS GUN SACKS-Click Here
---

1795 Springfield Musket
The model 1795 Springfield flintlock musket was made at Springfield Armory, MA., from 1795-1814, with a total production of 80,000 to 85,000. It was the first standardized and official model of musket made for the U.S. government, the first made by a U.S. arsenal, and the first model of firearm made by the Springfield Armory. This is a fullstock made from European walnut with a satin finish. The stock is 57 ¼" with a 2 ½" drop and a trigger pull of 13 ¼". The barrel is a .69 caliber – armory bright - 44 ¾" length – tapered round – smoothbore. The front sight is a brass lug on upper barrel band. Ignition is flintlock (1" size flint). Features steel furniture – armory bright. Lockplate is engraved w/eagle over "US SPRINGFIELD" on tail. Overall length is 60" and weighs 10 lbs. Recommended load is 80 grains of 2F black powder with a .680 round ball - .010 patch. Manufactured by Pedersoli..................................................$1510.00 Call
Protect your investment with one of our FLEECE LINED CANVAS GUN SACKS-Click Here
---

Remington Model 1863 "Zouave" Armi Sport. The Zouave Rifle was created for use by soldiers during the Civil War and was recognized by experts as one of the better made long arms of that era. This is a faithful reproduction of this popular musket. It features a blued barrel and color case-hardened lock marked "US" with the eagle. The triggerguard, barrel bands and patchbox are finished in highly polished brass. N.S.S.A. Approved. Cal. .58. Length of BBL 33". 1-48" twist. Weight 9.5 Lbs.
Overall Length 49".........................................$1026.25

Uses the "Zouave" sword type bayonet with brass grip
Protect your investment with one of our FLEECE LINED CANVAS GUN SACKS-Click Here
---
Shotguns
Coach Gun,
The Coach gun is a halfstock w/ checkered wrist and European walnut stock. The barrel is a double barrel, 12 gauge, blued 20", tapered round. Smoothbore - .720 bore diameter, cylinder bore (both barrels). Front sight - brass bead. Features blued steel buttplate, trigger & barrel thimbles. Color casehardened locks, triggerguard, tang, entry thimble & wedge plates. Engraved locks & tang. Includes a ramrod stored under the barrels.
Manufactured by Pedersoli in Italy..................................$995.00
---
Gun Sacks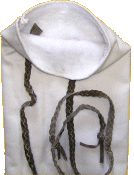 Deluxe Gun Sack, Very fine quality canvas gun sack.72" long with braided leather ties that secure through brass grommets. American made quality with man made fleece lining to keep your firearm secure from scratches and bruises. Fits all muskets including all two and three band weapons including 1842 Springfields and 1790's muskets. This is a new product for us and they have been very popular.....................................................................................................$42.50


---

Gun Sack, 72" long. For all two and three band weapons including 1842 Springfields. Sunforger canvas to inhibit moisture and keep your musket dry. Fold over end with ties to keep your musket inside while traveling. Made right here in our tent shop.............................................................................$29.95

---
WE CARRY THE COMPLETE LINES OF ARMI-SPORT AND EUROARMS. PLEASE CALL IF NOT LISTED HERE. WE CAN ALSO GET NAVY ARMS AND DIXIE GUN WORKS WEAPONS IF INTERESTED.

---
Book-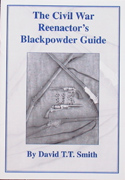 The Civil War Reenactor's Black Powder Guide. Soft cover, 55 pages complete with pictures. Covers all aspects of CW period military weapons- Revolvers, Muskets, carbines, etc. Loading, Firing (live and blanks), Cleaning, and storage are also covered. This is a long awaited book for the hobby and new reenactors. If you need info regarding the care and feeding of your weapon, this is it!....................$12.95


---
Book-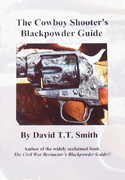 The Cowboy Shooter's Black Powder Guide. Soft cover 87 pages. As above, only a complete guide to the handling, shooting, cleaning, and care of the catridge weapons that modern day Cowboy shooters use today. How to choose the proper equipment as as care and feeding for cowboy shooters revolvers, rifles and shotguns as well as specialty firearms. Also includes a chapter on the "Anatomy of a Black Powder Shootout". Glossary of terms at the end. A well rounded guide for anyone interested in modern day Cowboy Shooting..................................$19.95


---
More Musket parts & ramrods are available- please inquire
To Check Out our Civil War and Cowboy Cartridge Rifles-Click Here

Warranty information on all of our products - Click Here
Warranty information Specifically for Rifles and Revolvers- Click Here


Click below to browse our Website:

&nbsp&nbspLeather Goods ........
Cartridge Rifles -Henry
&nbspShoes and Boots

CW Carbines- Sharps,etc

&nbsp&nbspMuskets and Rifles
&nbsp&nbspEmbroidered Insignia
&nbsp&nbspBayonets
&nbsp&nbspBrass Insignia
&nbsp&nbspRevolvers and Pistols
&nbsp&nbspButtons
&nbsp &nbspNon Firing Weapons
&nbsp&nbspBuckles and Plates
&nbsp&nbspFirearms Accessories
&nbsp&nbspTinware and Canteens
&nbsp&nbspLady's Items and Books
&nbsp &nbspHaversack Stuffers
&nbsp&nbspBooks - Manuals
&nbsp&nbspClothing Patterns
&nbsp&nbspBooks - Reference
&nbsp Kit Guns
&nbsp&nbspMusical Instruments and Books
&nbsp&nbspToys for Kids
&nbsp&nbspConfederate Uniforms - QM Shop
&nbsp&nbspSwords and Sabers
&nbsp&nbspU.S. Uniforms - QM Shop
&nbsp&nbspMovie Credits
&nbsp&nbspWanted

&nbsp&nbspUniforms for Kids

&nbsp&nbspFavorite Links
&nbsp Shirts and Clothing
&nbsp&nbspCurrent Flyer
&nbsp&nbspHeadwear
&nbsp&nbsp
&nbsp&nbspTents
&nbsp&nbspEmail Us-Order Inquiries Only
Drums and Accessories
Testimonials
&nbsp&nbspKnapsacks, Blankets and Haversacks
Gift Certificates
..............Souvenirs......
&nbsp&nbspHome Page
Shopping cart features added by
Link Data Services
All info and pictures Copyright 2020 Fall Creek Corporation
Nothing can be copied without permission.
Copyright 2013 Fall Creek Corporation