Civil War Music and Video
Fall Creek Suttlery
P.O. Box 92
Whitestown, In 46075
(765) 482-1861
(765) 482-1848 fax

Civil War Music and Video Tapes
---





Bobby Hortons Songs of the Christmas Season
Volume 2





Enjoy your most well known seasonal music with a period flair
that our beloved Bobby Horton can produce.
His second CD of Christmas songs is now available with 17 new songs.
Songs include; God Rest Ye Merry Gentlemen, Oh Come Emmanuel, Medley: Let All Mortal flesh keep Silence / Masters in this Hall / We Three Kings, Deck the Halls, The Wexford carol, Christ is Born in bethlehem, Medley: Hark the Herald Angels Sing / Away in the Manger / Angels We Have heard on High, he is Born The Holy Child, The Shepherds Cradle Song, Medl;ey ; O Come All Ye Faithful / What Child is This / The First Noel, To bethlehem, Medley: The Friendly Beasts / Bring a Torch Jeannette Isabella, Jingle Bells, Lullay Thou Tiny Little Child, Patapan, Medley: Joy To The World / We Wish You A Merry Christmas, Silent Night.

Price .....$15.95

---
For Musical Instruments and related books,
Visit our Musical Instruments page- Click Here
---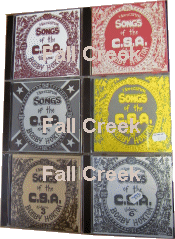 Bobby Horton, One of the most talented and lively performers of Civil War period music. All original songs and a few new ones are performed with an historic flair. Most of the instrumentals and all of the vocals are performed by Bobby himself. The recordings are all very high quality. Each Cassette or CD is packed full of what makes this performer one of the best selling artists that we carry.

We carry all of Bobby's music on CD's-.
"Songs of the CSA" Vols 1,2,3,4,5,6"
"Songs of the Union Army" Vols 1,2,3,
"Homespun Songs of Faith 1861-1865"
"Songs of Vicksburg"
"Songs of Christmas"..............................CD's- $15.95
---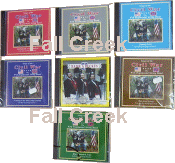 97th Regimental String Band,
This is one of the very best groups performing Civil War period music across the country today. The original songs are played with an amusing quip now and then by this talented trio. As seen playing professionally at many CW sites, reenactments and in the streets of many historic towns.
"Tenting By The Old Campground", "Dixie and Other Love Songs", "Chantey Irish", Battlefields and Campfires", "Raise a Ruckus Tonight", "Marching Along" and "Brass-mounted Army"
Order the 97th Regimental Band music directly from their website- Click Here
---
Camp Chase Fife & Drums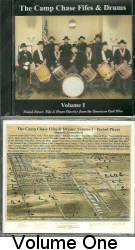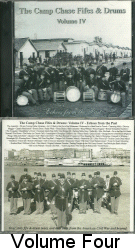 This is one of the Best Fife and Drum Bands in the country. They play at many local and national events.
All of these ballads and marches are performed on period instruments. No vocals.CD Format Only.

Camp Chase Fifes & Drums, Vol I - Period Fife & Drum Classics from the American Civil War................$15.95
Camp Chase Fifes & Drums, Vol II -"The Civil War" , More marches, familiar songs, etc with drum & fife...$15.95
Camp Chase Fifes & Drums, Vol III -"Above the Clouds". 52 Works on one CD
Camp Chase Fife and Drums, Vol IV - Echoes from the Past this is their newest CD containing over Sixty - fife and drum tunes and duty calls from the American Civil War and beyond.
Order Camp Chase Fifes & Drum CD's directly from their website- Click Here


---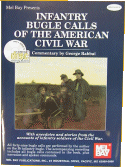 Infantry Bugle Calls of the American Civil War. George Rabbai's instructional book. 40 pages of instruction and score for the beginner as well as the advanced Bugler. Includes a CD with narration and spoken commands as well as all 49 bugle calls as performed by the author on the Bb infantry bugle. Also includes anecdotes and stories from the accounts of infantry soldiers of the CW................................$17.95




---
Civil War Video Tapes & DVD's
---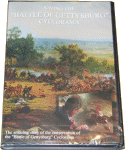 Saving the Battle of Gettysburg Cyclorama-DVD
Four years in the making, this multi-layered program follows the process of removing the Gettysburg Cyclorama painting from the old building on Cemetery Ridge, cleaning and restoring it, and re-hanging the panels in the new Visitor Center. Like the original painting itself, the restoration was a monumental effort, involving artists and experts from all over the world. This program not only captures all of the painstaking work to save and restore the painting, but also recreates the original work itself, from French artist Paul Philippoteaux's first visit to Gettysburg in the 1880s to the premiere for the Cyclorama in Boston. But there is more: the event itself – Pickett's Charge – is also included, giving this documentary a deep, rich, textured presentation that touches on all aspects of the painting, the restoration and the battle action depicted. (50 minutes)............................................................................................Sorry! This has been discotinued.


---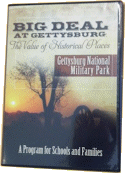 Big Deal at Gettysburg: The Value of Historic Places- DVD
Business executive Elizabeth Whitlow is sent by her organization to value capital inside Gettysburg Pennsylvania. Along with her for the ride is her partner Ralph and her child Josh. The trio visits historical properties for her firm and subsequently leaves Gettysburg understanding that historic value sometimes trumps property value.
Complete with teachers guide for use in the classroom.............................................................................................$14.95


---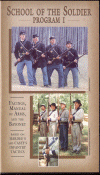 School of the Soldier, Program 1, DVD,Video Based on Hardee's and Casey's Infantry Tactics. Vol 1 Details Facings, Manual of Arms, and School of the Bayonet. Filmed in Virginia and Michigan using Reenactors in realistic situations and scenes. This is a very good video, We sell a lot of these! DVD Format Only....$29.95

---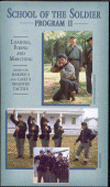 School of the Soldier, Program 2, DVD,Video based on Hardee's and Casey's Infantry Tactics. Vol 2 details Loading and Firing the Rifle, and Marching in a Squad, and Caring for the Weapon. Filmed in Virginia and Michigan using Reenactors in realistic situations and scenes. This is a very good video, We sell a lot of these too! DVD Format Only........................$29.95

---

For Musical Instruments and related books,
Visit our Musical Instruments page- Click Here
---
Click below to browse our Website:

&nbsp&nbsp

Leather Goods ........

Cartridge Rifles

-Henry

&nbsp

Shoes and Boots

CW Carbines- Sharps,etc

&nbsp&nbsp

Muskets and Rifles

&nbsp&nbsp

Embroidered Insignia

&nbsp&nbsp

Bayonets

&nbsp&nbsp

Brass Insignia

&nbsp&nbsp

Revolvers and Pistols

&nbsp&nbsp

Buttons

&nbsp &nbsp

Non Firing Weapons

&nbsp&nbsp

Buckles and Plates

&nbsp&nbsp

Firearms Accessories

&nbsp&nbsp

Tinware and Canteens

&nbsp

&nbsp

Haversack Stuffers

&nbsp&nbsp

Books - Manuals

&nbsp&nbsp

Clothing Patterns

&nbsp

&nbsp

Books - Reference

&nbsp

Kit Guns

&nbsp&nbsp

Toys for Kids

&nbsp&nbsp

Confederate Uniforms

&nbsp&nbsp

Swords and Sabers

&nbsp&nbsp

U.S. Uniforms

&nbsp&nbsp

Movie Credits

&nbsp&nbsp

Wanted

&nbsp&nbsp

Favorite Links

&nbsp

Shirts and Clothing

&nbsp&nbsp

Headwear

&nbsp

&nbsp

&nbsp&nbsp

Tents

&nbsp&nbsp

Email Us-Order Inquiries Only

Gift Certificates

&nbsp&nbsp

Home Page
All info and pictures Copyright 2023 Fall Creek Corporation
Nothing can be copied without permission.
765-482-1861