Sod Cloth
In order to avoid any confusion for our customers who are attempting to decide whether or not they would like a Sod Cloth added to their tent, we have printed this explanation regarding Sod Cloths and their use.
For our description- a Sod Cloth is an approximately 12" wide piece of canvas that is sewn around the bottom perimeter of a tent, not including the door. This flap is used to place straw, a ground cloth, or Sod*(See Below) onto ( inside the tent) to block wind and etc from entering the tent from the ground level.
The same effect can also be accomplished by placing a nice bed of straw- 4-6" thick on the ground inside of your tent and then placing a ground cloth or other flooring material on top of the straw. A layer of straw can also be placed around the outside perimeter of the tent as well.
The Sod Cloth will in no way replace or act as a floor, or provide ground protection for the occupants of the tent.
The additional cost of a Sod Cloth for our A Tents is $24.00 (2 sides) and $36.00 (3 sides), the Sod Cloth for our Wall Tents is $30.00 (2 sides) and $45.00 (3 sides). Additional charge for sod cloth added to the tent doors is $12.00 for A Tents and $15.00 for Wall Tents (2 door Tents will be charged per door). We strive to keep a full inventory of tents in stock at all times for immediate shipment. The majority of our tents are sold without sod cloths, and we do not usually have ALL tent styles in stock with this feature. A tent ordered with a Sod Cloth -MAY- have to be made to order for our customer, with the usual two-three week wait.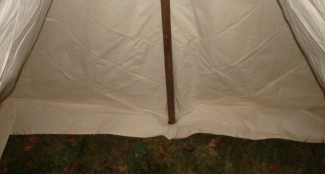 *The term "Sod Cloth" may have originated by folks using actual sod to lay around the flap, however, we do not recommend this, as the result will most likely be that we will be fielding many more calls from our tent users requesting information on how to clean dirt stains off of their tent. If the tent setup is under circumstances where you would need something very heavy to hold the sod cloth down, we highly recommend that you head for the nearest storm shelter.
Stake Loops
We use cotton webbing stake loops as a standard feature on all of our tents.
As well as being what was used in the 19th century, this material has worked well since we began making our own tents in 1989. Cotton webbing is not available in a treated material. If your tent is expected to be set up for an extended length of time, or in an otherwise damp environment, You may want to consider using nylon webbing. Nylon webbing is stark white and does not match the tent canvas, however, it will not succumb to the elements. We have only needed to use this material in a very (very) small number of cases.
If you feel that your tent may be set up for more than a few weeks at a time, or in an otherwise damp or harsh environment, please let us know and we can discuss this option.

Thank you for your interest, please click the {Back} button on your browser
or
CLICK HERE to return to our tents' page
Fall Creek Suttlery
P.O. Box 92
Whitestown, In 46075
(765) 482-1861
(765 ) 482-1848 fax



Click below to browse our Website:

&nbsp&nbsp

Leather Goods ........

Cartridge Rifles

-Henry

&nbsp

Shoes and Boots

CW Carbines- Sharps,etc

&nbsp&nbsp

Muskets and Rifles

&nbsp&nbsp

Embroidered Insignia

&nbsp&nbsp

Bayonets

&nbsp&nbsp

Brass Insignia

&nbsp&nbsp

Revolvers and Pistols

&nbsp&nbsp

Buttons

&nbsp &nbsp

Non Firing Weapons

&nbsp&nbsp

Buckles and Plates

&nbsp&nbsp

Firearms Accessories

&nbsp&nbsp

Tinware and Canteens

&nbsp

&nbsp

Haversack Stuffers

&nbsp&nbsp

Books - Manuals

&nbsp&nbsp

Clothing Patterns

&nbsp

&nbsp

Books - Reference

&nbsp

Kit Guns

&nbsp&nbsp

Toys for Kids

&nbsp&nbsp

Confederate Uniforms

&nbsp&nbsp

Swords and Sabers

&nbsp&nbsp

U.S. Uniforms

&nbsp&nbsp

Movie Credits

&nbsp&nbsp

Wanted

&nbsp&nbsp

Favorite Links

&nbsp

Shirts and Clothing

&nbsp&nbsp

Headwear

&nbsp

&nbsp

&nbsp&nbsp

Tents

&nbsp&nbsp

Email Us-Order Inquiries Only

Gift Certificates

&nbsp&nbsp

Home Page
All info and pictures Copyright 2023 Fall Creek Corporation
Nothing can be copied without permission.
765-482-1861